Experiencing an Embryo Transfer in India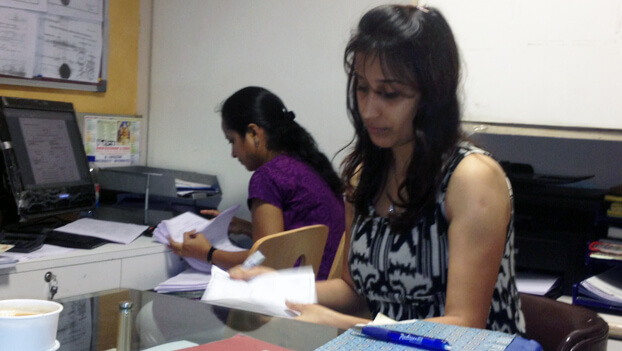 When we pulled up to Lilavati Hospital in Mumbai, we were a bit surprised. It was a huge hospital – bustling with people going in and out, boasting every medical specialty – basically a standard all facilities type hospital. That's another difference between IVF in India and U.S. In the United States, it's unusual to find an IVF center located within a large hospital, typically the IVF centers where fertility specialist reside are stand-alone clinics/offices… they may have affiliations with larger well-known hospitals, but generally the IVF section is not reached by going through the main hospital entrance. In India, we've seen this a couple of times. For us, it's a bit of a culture shock.. to be walking through a general hospital, with people there for surgeries, emergencies, and other assorted ailments .. trying to find our way to the IVF clinic.
First things first, we were not allowed to shoot any video or take any pictures of the outside or inside of the hospital. There were guards standing outside and we had to run our purses and bags through a metal detector (this is fairly common all over India). So there goes that. You'll have to take our word for it that it was a nice hospital, though it felt a bit worn to us. Clearly it is a very busy hospital.
We took the elevator up to the 2nd floor and the doors opened on a cafeteria area. Again, just a bit odd for our Western views of IVF clinics, but nothing we couldn't get used to. The IVF clinic was off to the side, right next to the ENT (Ear, Nose, Throat) and Opthamology Departments. Again, a bit different for our Western sensibilities, but that's the whole point of coming to India and checking things out for ourselves. We walked down the hallway, it was quite cramped and there were lots of people standing around. We had to take off our shoes before we got to the IVF area (we've seen this at a few places) and then we were ushered into a tiny office to wait for Dr. Nandita Palshetkar. Her office was much nicer than the cramped waiting area.. it was simple, but modern with a glass desk, large monitor/TV screen on the wall and an exam bed with a curtain drawn around it.
We were told that Dr. Palshetkar was finishing up with an ultrasound and that she would be with us shortly.
Bloom Fertility Center is one of the largest groups in India – they have many clinics throughout the country including 3 just in the Mumbai area alone. Dr. Palshetkar and her partner Dr. Pai oversee all of the clinics IVF facilities. The clinics include a variety of different types – some are in the Fortis group of hospitals, 1 is Dr. Palshetkar's private clinic, 1 is a low cost clinic (to help Indians suffering from infertility who can't afford higher treatment costs) and 1 is here in Lilavati Hospital (which we have since learned is a 5 star private hospital).
Finally, Dr. Palshetkar came into the room. She is a blur of positive energy. (we're finding that many of the fertility doctors in India have this incredible amount of personal energy – sure wish we could tap into it ourselves!!) We like Dr. Palshetkar, she lets us know that she's no-nonsense, that she plays by the books and she's an incredibly hard worker (she's been up working since the crack of dawn! – she's already done more ultrasounds and transfers than many doctors will do in a day and it's barely mid morning!) Bloom Fertility did 2400 embryo transfers last year. Initially international surrogacies were about 5% of her practice, but now that number has increased to about 20%. As we mentioned, Dr. Palshetkar plays by the books, she feels that it is her moral responsibility if Intended Parents are unable to take their babies back to their home countries and therefore will not work with clients she knows that she cannot help, just to make the extra buck. She stays up on the regulations and feels that all of the fertility doctors should have the same moral responsibility in regards to this 'grey' area, although we know of course, that some don't. In fact, Dr. Palshetkar lets us know that she's even shipped embryos to other clinics because she doesn't want to do something illegal at her own clinic. Dr. Palshetkar works with two surrogacy agencies – Surrogacy India and Yashoda – they find the surrogates and take care of them once pregnant. Dr. Palshetkar does NOT follow the surrogates throughout the pregnancy. (this was different than most of the fertility doctors that we've met with so far… and more like the Western model of surrogacy where the fertility doctor releases the surrogate to her OB after 10-12 weeks pregnant). Consequently, Dr. Palshetkar is not that involved in the surrogacy process, she is the fertility/IVF expert.
We were interrupted several times during our conversation with Dr. Palshetkar, but always very pleasantly. Clearly she is one busy woman! As luck would have it, she had an embryo transfer in India that was about to happen – a young Indian woman. She asked if we wanted to watch. Of course we said yes!!
It was wonderful to watch.. the procedure room was small, but very clean. With the latest equipment, just like any other top notch fertility procedure room. The difference is there were about 10 people in this tiny room.. everyone in full scrubs and masks. At the last minute, when everything was ready to go, Dr. Palshetkar whizzed in, did a perfectly smooth and fast ultrasound guided transfer and that was it. It was beautiful and quick. The interesting thing is that Dr. Palshetkar is an embryologist as well as an RE so she loaded the catheter with the embryos herself and then brought it into the room to do the transfer, haven't seen that before!
Another interesting point, the husbands are not allowed in the procedure room for the transfers! Now that's different than the US. We asked why and both the patient (who was very sweet) and the doctor said it's better that way.. they don't want them there. But if they want to join their wives for the 15 minute waiting period after the transfer (when their legs are back down and their private areas covered), then they're more than welcome to come in. I wish we had thought to ask the other doctors we met with if this was the case with their embryo transfer in India, I'm curious whether it's an 'indian thing' or whether it's a Dr. Palshetkar thing.
Dr. Palshetkar's self reported success rates are 60-70% with surrogate/egg donor and 40/50% with straight IVF. That tends to be what we've been hearing across the board.
Because Dr. Palshetkar does not deal with the surrogacy aspect, her fees only incude IVF and medication costs. She does offer package programs and money back programs, but in adding up the overall costs, you'll need to figure out what Surrogacy India or Yashoda charge for their surrogate packages.
So did I mention that Dr. Palshetkar is one busy woman… since that morning, she had already done a myomectomy, several embryo transfers and a few consults. At this point, it was clear that she had too many patients waiting for us to continue talking. However, she really wanted us to go visit her other clinic that was in a different part of Mumbai. We promised we would try and said goodbye.
In fact, we were able to make it to her other clinic after our next appointment. I'm finding more and more that the names of the clinics can be misleading… this next one was called Bloom Fertility Center, Palshetkar Patil Nursing Home. Now, here in the United States, the words nursing home come with very significant connotations. One thinks of older people in wheelchairs, living out the remainder of their days in sometimes very sad surroundings. (okay – I'm basing this on my own past experience with my grandmother – I realize that there are very good nursing homes as well). In India, however, nursing home means something entirely different – it's more like surgery center, where other procedures are done on an outpatient basis. Again, not just IVF procedures, other medical procedures as well. We reached the clinic after hours but we lucky enough to get a tour of the facilities. It was a nice clinic (again, a bit odd to us to have other procedures/medical specialties occurring right in the same area as the IVF procedures) but the exam rooms, pre op/post op rooms were nice and the lab was clearly state of the art.
On our next visit to India, we'll need to make sure that we meet with Surrogacy India and Yashoda to see how the surrogate portion of Dr. Palshetkar's practice is handled. But for now, we were definitely impressed with Dr. Palshetkar's experience and attitude. She's clearly a very caring doctor and very interested in seeing her patients get pregnant